Kim is busy working in four separate musical projects: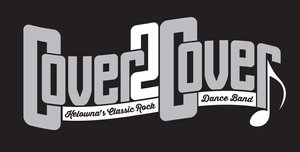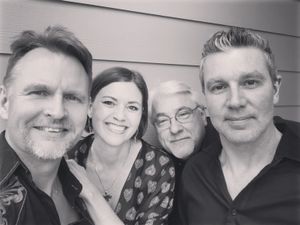 Cover2Cover is one of Kelowna's most sought after classic rock dance band.
With lead singer and guitarist Jim Rhindress our front, Robert Vallee on drums and vocals, Gilles Lesage on bass and vocals and Kim Rhindress on keys and vocals, this band tackles some of the biggest songs in rock and pop with tight harmonies and solid playing.
We can be heard at events such as Parks Alive, Westside Daze, weddings and private parties.
Follow us on Facebook or Instagram or just check out our website for upcoming dates in Kelowna - www.cover2coverkelowna.com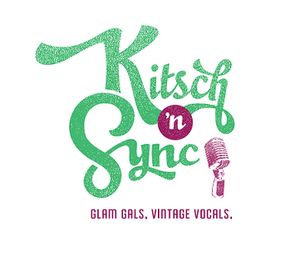 Kitsch 'n Sync is a 3-part ladies singing trio that embodies the very best of the Girl Groups. Group members are Kim Foreman-Rhindress, Karen Mason and Patricia Korthius. Our tag line is: Glam Gals, Vintage Vocals and with a name that has the word "Kitsch" in it, we have given ourselves full permission to be flirty and fun.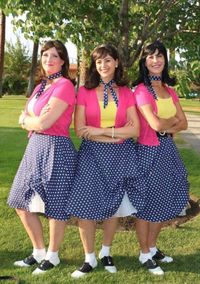 We perform exclusively music from the 1940's, 1950's and 1960's with matching costumes, sass and flair.
Tight vocal harmonies, humour and fun facts from the era, we add a great touch of fun to any event. Kitsch 'n Sync is a great group to perform for conferences, parties or any fundraising event that could use just a touch of 'Kitsch'.

Visit  www.kitschnsynckelowna.com or our Facebook page!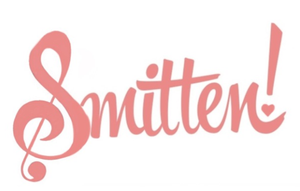 Smitten is a duo Kim Foreman-Rhindress formed with her husband - professional musician and well known Kelowna guitarist and luthier Jim Rhindress. Performing with either guitar and bass or with keyboard and guitar - acoustically or to tracks, Smitten performs both acoustic and dance songs for any type of event or party. We have carefully chosen fun and beautiful songs from each era ranging from classics right up to current songs on the radio.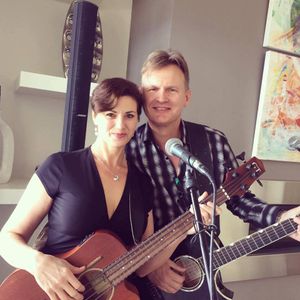 Smitten regularly perform at special events and venues in and around Kelowna so visit our website or Facebook page to see where and when we will be performing next.
Along with private events, we do a lot of singing telegrams - surprising people for their birthday or anniversary with original songs written just for them. 
We are also excited to share that we are currently working on recording our first album of original songs under the name Rhindress. Our original songs now number 14 and we regularly perform at the "Dessert and a Show" house concert series as well as other original music venues.